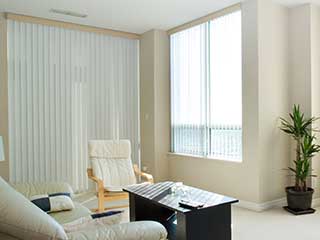 Welcome to our product page for affordable, high-quality custom vertical blinds in Los Gatos. These window and door treatments are perfect for long windows and glass doorways, and the prices for production and installation have never been better! Take a gander below to learn more about our different types of vertical blinds, and give us a call to set up a free estimate!
Why Choose Vertical Blinds For Your Los Gatos Property?
So, what makes this type of window treatment better than any of the alternatives? Well, it depends on what sort of window we're talking about. As a general rule, you'll want vertical blinds for windows that are longer than they are tall. The shorter each panel has to be, the more structurally sound a window treatment you can have. This style of blinds is also perfect for sliding glass doors and other see-through entrances. You can mount vertical blinds on tracks and rollers parallel to the window or door's own, or hang them from a rod overhead just like curtains.
Vertical Blinds For The Workplace
Offices, restaurants, and shops often have wall-length windows that horizontal blinds and shades are hard to use with. With the right design choices and customizations, vertical blinds for office windows and similar can solve that problem! These window treatments' sideways-sliding frames will let you keep sunlight out of eyes and away from sensitive equipment while still allowing some into the room. For an office setting, some vinyl paneled vertical blinds can help build a professional atmosphere as well as guarding the windows. For a restaurant or other sales-oriented environment, try some lined and padded ones with brighter colors or designs.
Vertical Blinds At Home
Long windows that can use this type of blinds tend to be in kitchens, bedrooms, and living rooms, as well as hallways. You can also use vertical blinds for glass doors, of either the sliding or double French variety. We can lay another set of tracks along your patio or deck door's existing ones, or install a hanging system onto French doorframes. In general, the more glass that your home incorporates, the more you should use vertical instead of horizontal blinds.
Choose Your Materials And Embellishments
Motorized Window Blinds - Los Gatos gives you the opportunity to design your new window treatments with our customization options. Any color or pattern you can think of is on our menu. If you want your vertical blinds with curtains or sheer coverings, we can install those along with them. Vinyl plastic is just the most common choice of materials for modern blinds panels. If you'd prefer waterproof aluminum or strong, stately wooden vertical blinds, just tell our design consultants. Every order comes with a free quote, so talk to our experts and let them help you come up with exactly the features you want!
Benefits Of Motorized Vertical Blinds
It might be surprising to hear, but automatic blinds and shades can save you money over the years. Most of a building's unwanted heating and cooling happens through the window panes, and blinds left open can lead to wallpaper and furniture damage. Motorized vertical blinds that you can program to open and close automatically at certain times can solve all of these issues. You won't have to remember to adjust them all the time, or even be around to do it when the time or weather changes. Getting rid of human error makes your motorized vertical blinds that much more reliable. Over time your electricity and home repair bills will prove it!
Get a Free Quote On Blinds, Vertical Or Other
Call Motorized Window Blinds - Los Gatos and arrange for a free consultation appointment at any nearby address. We service all of Los Gatos and various parts of the San Francisco area too. Have one of our experts come to your home or office for a full consultation and estimate on vertical blinds, motorized, blackout or various other types. We'll measure the windows or doors you want covered and give you an estimate on the total costs. Call anytime to find out more!