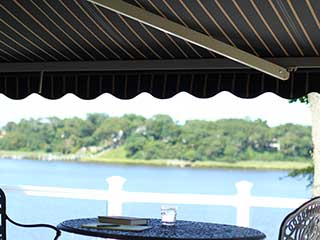 You can improve almost any outdoor space by adding protective shades or covers to it! On the simpler end of the spectrum, fabric sail shades that stretch between existing attachment points provide a simple, manually adjusted cover. On the other end of the size and complexity spectrum, heavy-duty motorized patio covers turn Los Gatos outdoor spaces into convertible outbuildings! You can find motorized awnings, shades, and even pergola screens and canopies perfect for a variety of needs.
Protection For Patio Furniture
So, what makes patio shades worth the investment? First of all, they make your patio, deck, or yard much more comfortable to be in during rain or harsh sunlight. Second, they let you furnish your patio with a much greater range of outdoor furniture without fear of damage. Most patio covers are easy to extend or withdraw, so you can enjoy warm weather without having to leave your furniture at risk. Opting for motorized patio covers makes the change that much quicker and easier, especially for large covers that would be a chore to adjust by hand.
Custom Patio Covers For Your Los Gatos Property
Choosing a style of outdoor shades is partly down to personal taste and aesthetics, and partly to structural necessities. Few patios or porches are exactly the same size and shape as others, so most patio covers are custom made for the location. Our consultation services come free of charge, and you'll get a quote before you have to decide on anything. You can get our in-house design team working on anything from motorized awnings to mobile popup canopy tents. The amount of ground you need covering, as well as the amount of existing support and available vertical space, are what narrows down your options. The most common patio covers, like sail shades and awnings, hang off of an existing wall to cover adjacent patios and yards. You also have freestanding patio covers for larger or more isolated spaces.
Freestanding Outdoor Shade Solutions
Decks and lawn picnic areas often lack nearby walls or building sides to provide support for shades. Very large patios might be too wide for typical awnings to cover without having weight and balance issues. Self-supporting or freestanding patio shades have their own stands, frames, or supports, ranging from pergola style covers to patio canopy tents. Motorized patio covers in these styles have a variety of ways to satisfy their power demands. Our consultants can talk you through the options!
Smart Remote Control Motorized Patio Covers
Power and insulation considerations aren't the only questions that need addressing if you're thinking about motorized patio shades. There's also the choice of control mechanisms, some of which add a lot more utility to an otherwise simple unit. Being able to adjust your motorized patio shades from outside of your house via smartphone controls or digital assistant technology lets you correct for mistakes and surprises. Forgot to adjust your patio covers last night and just remembered it today at work? A few taps on your touchscreen or an order to Alexa is all it takes to extend or retract your motorized awning or cover. With Los Gatos motorized patio covers, you have a fabulous variety of choices. Wi-Fi remotes, Somfy smart covers, and more options provide something for every need and budget range.
Get a Free Quote on Patio Covers, Awnings, and Canopies
We enjoy helping customers find the perfect combination of looks and utility for their motorized patio covers. Whether you want colorful awnings with remote controls, rolling pergola screens, or a new deck canopy, our Los Gatos patio cover installers can help you design the best fit for your budget and purpose. Set up a free estimate consultation to start looking at different options!