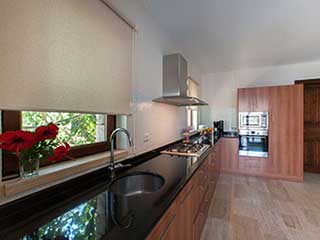 Trying to decide on the right new window treatments for your home or business can be frustrating. But it doesn't have to be! Our Los Gatos blinds installers offer free consultations with our experts, which means you'll have help finding the right fit for your needs in no time. It also assures that you'll be completely satisfied with the end product! Roller shades make for one of the most popular types of window coverings. Thanks to their simplicity and customizability, roller window covers can offer many customers a lot of options.
Sunlight Blocking With Blackout Roller Shades in Los Gatos
Regular window coverings may not always be perfect at completely keeping out light from outside. Especially if they aren't custom made to fit your windows. However, this won't be a problem with blackout roller shades! Aside from the blackout material being sure to darken any area, our professionals use your windows' specific measurements to manufacture each set. That way your new blackout roller shades will fit perfectly! That part's crucial for creating total darkness and not letting any sunlight through. Blackout roller shades are a great fit for Los Gatos bedrooms, as well as personal offices and meeting rooms for businesses. Thanks to their ensured privacy, blackout roller window covers can benefit all sorts of rooms. And they come in multiple color and style options as well!
Sheer Roller Window Coverings - Lower Energy Spending
You may not realize it, but allowing direct sunlight into your home can create a large drain on your energy spending. This is due to the sun making your home warmer, and thus causing the AC to run more than it may otherwise. After all, it needs to work in order to stop the temperature from fluctuating. Even in the winter, exposed windows can allow heat loss, which also leads to unnecessary spending. However, there's a solution that doesn't require giving up natural lighting! Sheer roller shades will prevent this issue with sunlight by filtering it and reducing the heat it creates. This way you can enjoy the sun without worrying. With sheer roller shades, you can diffuse sunlight and still use it to illuminate indoor areas without affecting the temperature.
Motorized Roller Shades For Los Gatos Windows
Some windows in your home, such as skylights, may be out of reach for manual window coverings. However, that doesn't mean you should leave them uncovered. Nor do you have to! Rather than allow them to increase energy costs for your home, get them taken care of with motorized roller shades. You can use wall switches, remote controls, or a smart device to operate them easily. Even without such windows, motorized roller shades make things easier. They do this by allowing you to adjust them with the press of a button! We install motorized roller shades with Wi-Fi connectivity, letting you turn tablets or smartphones into remote control handsets. And you can also have brightness or temperature sensors installed. That way, your motorized roller shades can adjust themselves according to your determined parameters.
Free Quotes on Custom Roller Window Shading
Make sure that you're getting the best window coverings for your home or office needs. Whether you want roller shades that will suit any room due to customization options or are curious about a different style of coverings, Motorized Window Blinds - Los Gatos will happily help you choose new roller covers. Our range of products includes blackout motorized roller shades and all other combinations of materials, features, and designs. Consult with one of our local professionals for free and get a quote on custom roller shades for your Los Gatos business or residence.