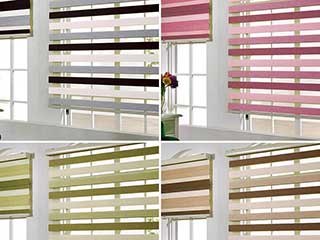 If you want to give your home a classy and beautiful look with your window treatments, wood blinds are sure to do the trick. However, you may be hesitant about the maintenance or cost of this type of window covering. That's where our excellent faux wood blinds come in! They don't require the same amount of upkeep, nor are they as expensive. Custom faux wood blinds can look just as good, though! If you're curious to find out more about our faux wooden window treatments, keep reading or give Motorized Window Blinds - Los Gatos a call to book a free estimate.
Difference Between Real Wood and Faux Wood Blinds
While real wood window treatments are a lovely addition to any home, they do require a lot of attention to keep them in good shape. Due to being made of real wood, these blinds are vulnerable to humidity, and water damage in general. They also may swell up if exposed to liquid. That's why wooden blinds must be treated periodically to prevent this. Cleaning is also a more involved process to ensure they're not damaged. They do tend to be more expensive too. If you love the look of wooden window treatments but aren't sure about all this hassle, our Los Gatos faux wood blinds experts can help! Faux wood window coverings deliver the same elegant look. That's without any of the problems related to maintenance. They're also more affordable!
Finest Faux Wood Blinds in Los Gatos
Make sure you're getting the most top-quality faux wood window treatments available by coming to our professionals for them! We'll help you decide on the best material that will suit your home's needs, such as PVC or vinyl, both of which make for very light and easy to maneuver coverings! Faux wood blinds are also much more flexible than real wood blinds, so they'll hold up for a long time. Our interior décor experts also assist you in picking out the imitation wood blinds staining that will beautifully complement the space with our free consultations.
Faux Wood Blinds Are Great for Kitchens
While wood window treatments look great in the kitchen, they're also at risk in an area where there's a lot of exposure to water, oil, and other damaging materials. However, with faux wood blinds, you won't have to worry about this! Not only are they completely resistant to any harm from liquids or otherwise, but they're also easy to clean should anything splatter on them. Your kitchen will look welcoming and chic, all without needing to worry about mold or damage from moisture thanks to waterproof faux wood blinds.
Los Gatos Blinds For Every Window
We have years of experience assisting customers like you in the bay area with finding their home's perfect set of faux wood blinds! Whether our amazing custom-made window treatments caught your attention, or you want to learn about our other styles, we'll be glad to go over it all with you. And, with faux wood blinds made to your windows' specifications, you'll know with certainty that they will fit perfectly and look great. Contact Motorized Window Blinds - Los Gatos today to schedule a free consultation! You'll only wish you'd done it sooner.