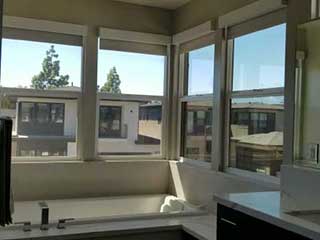 Motorized blinds and shades can make life easier and cheaper for any property in the Bay Area. Automatic window coverings are a huge time saver. Ones with smart features are more reliable at keeping out harsh sunlight and prying eyes. You can custom order a set of our custom motorized blinds or shades, and enjoy our low prices and top-quality Lutron and Somfy blinds motors and controls. We're happy to help you design a custom set of motorized window treatments with a free at-home consultation.
Motorized Blinds For Los Gatos Customers
You get to play an important role in designing your new motorized window coverings. Before making the order, you can arrange a free consultation appointment with our interior design consultants. We'll help you pick the best style, structure, and color for your new motorized blinds, as well as remote control setups. Production, delivery, and installation are all included in one affordable service bundle. Motorized blinds are easier to order and install than ever before for local Los Gatos homes and office spaces!
Types Of Motorized Window Treatments
Different windows have different needs. Some motorized roller shades made from a Somfy reflective fabric are a good fit for living rooms or studio windows. Add another layer of thicker curtains or blackout blinds, and you have a very adaptable setup. French doors work well with some motorized vertical blinds. Bedrooms and ground floor studies need some serious protection, so you'll want some more opaque motorized window treatments for them. Motorized Window Blinds - Los Gatos offers plenty of options, and each of them is the best for different window sizes and locations. Here are a few of them!
Motorized Roller Shades And Venetian Blinds
Thick rigid blinds are meant for windows with deep frames and plenty of room. For shallower windows, you'll need something that needs less space. Motorized Venetian blinds are flexible, compressible, and easy to install. The remote control also makes them easier to adjust to get the perfect light level, and eliminates the age-old problem of dangling cords. Our motorized Venetian blinds come in horizontal and vertical orientation, with semi-transparent or blackout panel options. For even less obstructive window covering, try our motorized roller shades. Fabric options include solar, cotton, and blackout material, as well as cellular tubing and bamboo weave.
Motorized Blackout Blinds
When you rotate these blinds shut, the panels close together to seal out all of the light. Unlike thinner styles, blackout blind panels are made of lightproof material that even direct sunlight can't penetrate at all. Motorized blackout blinds are a great choice for bedrooms, and rooms with delicate furniture or wallpaper. With timers or light sensors from Lutron or one of our other manufacturers, you'll never have to worry about your perishables again! If you want the most reliable protection that motorized blinds can provide, go with smart blackout blinds.
Horizontal Or Vertical Blinds?
Wall windows, glass sliding doors, and other long openings can't support the usual horizontal blinds very well. Motorized vertical blinds move left and right on wheels or tracks, with motors designed to work with gravity to minimize power requirements. There's a huge variety of styles when it comes to custom vertical blinds design. You can have Venetian or blackout style motorized vertical blinds or ones with sheer fabric coverings. Putting some thinner curtains over them lets you choose between total, broken, or filtered sunlight as well.
Electric Blinds With Remote Controls And Smart Systems
Motorized blinds are more convenient than ever thanks to new tools like wifi controls. With personal assistant programs like Alexa, Cortana, and Google Home, they can almost look after themselves! Our Lutron smart blinds will obey your commands from all the way across the world, or follow them daily as per programming. Motorized blinds get more worth it with every passing decade!
Book a Free Quote on Custom Motorized Blinds Today
We're open for business all throughout the work week and provide our motorized blinds installation services everywhere in the San Francisco bay area. The team here at Motorized Window Blinds - Los Gatos will happily help you customize your new set of motorized window treatments. From Roman shades to blackout vertical blinds, our motorization sets can sport a wide variety of styles. Call to get a free estimate & consultation appointment set up today!