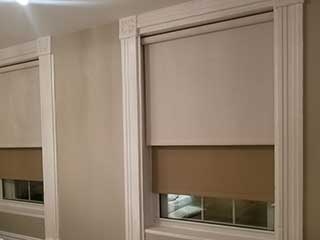 Being able to completely darken any room in your home or business with blackout window treatments can be a huge help for many reasons! From getting a better night's sleep to avoiding any glare on computer or TV screens. Blackout blinds will improve many of your experiences by letting you have full control over how much or how little light enters the room. There are various styles available as well, so there's no concern over whether or not it'll match the space you have in mind! Remember, Motorized Window Blinds - Los Gatos can help you customize your choice with a free estimate and consultation.
Los Gatos's Best Blackout Bedroom Blinds
It cannot be overstated how truly important sleep is to your overall health and functioning, and one of the easiest ways to assure you rest easy is with blackout window coverings! Any amount of light coming in from outside, be it from a street lamp or an early sunrise, can disrupt your precious sleep, and cause you to get run down. This is especially a problem for those who may need to sleep during the day thanks to their job! However, with our blackout blinds, it's easy to sleep no matter what time of day it is! They completely darken a room so no amount of light gets in, not through the blinds themselves, or around the outside of them.
Motorized Blackout Blinds Make Things Simple
Getting motorized blackout treatments can simplify your already busy lifestyle! You'll be able to use a smartphone app to open and close your blackout blinds as you please with just a swipe, even when you're away from home! This keeps your privacy in check because if you know there might be a package coming or someone working in the yard, you can close your coverings to completely keep out any gazes. Motorized blackout blinds can work with your smart home as well to reduce energy spending and close them to better keep out, or in, heat. In the San Francisco bay area, choosing motorized blinds, blackout or not, will prove extremely useful. With automation via Wi-Fi or Bluetooth Somfy and Lutron controls, your window treatments will respond to your every command.
Blackout Window Blinds for Your Los Gatos Office
Having complete darkness as needed can be a huge benefit in office spaces, and businesses in general. What good is a PowerPoint presentation, or any other important projection, if it's too bright to properly see it? Blackout blinds will negate this problem, and allow you to have your meetings free of any trouble. They also are sure to keep out glare on any computer monitors, so employees can work in peace, and without annoying distractions.
Blackout Blinds for Skylights and Glass Doors
Sliding glass doors are great, but also allow in a lot of sunlight due to how wide they are, and skylights can also let in more sun than you may always like. That's where blackout window coverings come in! These will allow you to block out any light as needed. Blackout blinds for doors help to keep your furniture safer by stopping bleaching from so much direct sunlight, and also affords you privacy. Skylight blackout window treatments will help reduce energy loss from fluctuating temperatures by keeping out the direct sunlight for long periods of time. Whatever you need, our Los Gatos blackout blinds specialists can help! Give us a call today to arrange a free estimate.